Regular price
Sale price
$108.00
Unit price
per
Couldn't load pickup availability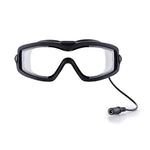 Regular price
Sale price
$108.00
Transparent (Clear) / Left (If you draw right sided)
Frustrated from fogged up glasses, too many straps around your head and your mesh mask pushing against your nose and chin? 
That irritated us too! That is why we have put a lot of time into ensuring that this does not happen again. So the Anti-Fog Full Face Mask was born. This is the adaption of the Full Face Mask.

The goggles are equipped with a fan to ensure that you never get fogged up again; even with a full ghillie suit! The fan is protected by a mesh plate that stops the impact from a BB. Included is a powerbank which you can connect to the fan, just plug & play! Oh yeah; Don't forget to charge the powerbank! 
The glass passes MIL-PRF 32432 High Velocity Impact Standards, meets ASTM F2879 standards, meets ANSI Z87.1 standards, meets Canadian CSA Z94.3 standards and meets European EN166 standards.
In the box:
1x Goggles & Mask already assembled with cable (0,5m)
1x Powerbank (8 hours of battery life) & charging cable
1x (Protective) transport bag for the perfect mask
Version 2.0 Update: 
No pressure point where the fan sits
3D print (patented) instead of glue for easy swapping of cable or fan
No need for additional rubbers
Even more low profile
Better looking
Replacement kits available for easy replacement of cable or fan
Happy hunting!
No fogging but not comfortable
No fogging issues but still pressure point from the fan on 2.0 version.
Goggle could use some padding as it is a bit uncomfortable
Positive
Nice design, fits well with my Fortis LP mask from NB Tactical. And no more problems with fogged up glasses! plus fast delivery!
Best goggles ever
Ik heb redelijk wat brillen gehad, waaronder ook zeer prijzige brillen, waarvan beweerd werd dat ze nooit zouden foggen.
Ik zweet nogal snel en veel bij inspanning, waardoor foggen een regelmatig terugkerend probleem was. Ook bij die duurdere brillen.
Nu gebruik ik sinds 3 maanden deze bril en heb werkelijk waar geen seconde fog meer gehad. Afgelopen weekend werd de bril echt op de test gesteld. De hele dag airsoft gespeeld in 30+ graden met missies over de hele map, waarbij veel gerend werd in full ghillie. Geen enkel moment fog gehad.
Simpelweg de allerbeste bril op de markt.
De fan hoor je totaal niet. En de powerbank hoeft, in tegenstelling tot de meeste brillen met fan, niet in de headstrap te zitten. Zo heb ik de powerbank in de tas aan mijn belt zitten, en de kabel langs mijn rig naar mijn schouder vastgemaakt. Nog geen enkele keer losgeraakt.
Wil je nooit meer fog? Koop deze bril.
Must have
Een heerlijke must have voor de airsofter die altijd wil kunnen zien zonder beslagen bril. Betrouwbaar en beschermend.
Beste airsoftbril die ik ooit gekocht heb!
Deze bril beslaat dus echt niet, met de nadruk op ECHT NIET. Al 10 jaar speel ik airsoft. Ik heb zo veel verschillende brillen gekocht waarvan er beloofd werd dat ze niet zouden beslaan.. Zelfs een Bloc tactical die volgens de makers en vele airsofters niet zou kunnen beslaan, en dan toch binnen no time beslaat. Deze bril met ingebouwde ventilator beslaat dus niet. Heb hem getest tijdens het trainen, en tijdens het airsoften terwijl het 32°c is. Hoe hard ik ook ren en hoe bezweet ik ook raakte, de glazen van de bril bleven droog. Het geluid van de ventilator valt ook totaal niet op! Ik heb de bril zonder meshmask er bij gekocht omdat ik die al heb en die sluit perfect aan op mijn bril. Kortom beste besteding voor een airsoftbril tot nu toe!
The ultimate solution!
Choosing a selection results in a full page refresh.
Your cart
Recommendations